Most posts on this blog are usually written by Cindy, but every once in a while Rick is inspired to share his observations.  Here are his from our first day heading down the coast.
Casting off the lines
In the 4 months since my retirement, we have been working harder than ever before. Though we have been working on Cool Change getting her ready since early 2011, we were also sailing, training and living in Coloma. In August we moved onto Cool Change full time after a huge effort at securing our belongings and renting out our home. As part of that process, we had to get rid of our cars, and arrange for how we would deal with our mail and what would become of our beloved if not slightly twisted kitty Tsang Po. If not for the help of our good friend Bev Pavone, things would have been much more difficult. Thanks to Bev, we have a new loving home for Po and a person we both trust to help us take care of business back at home. Thank you Bev!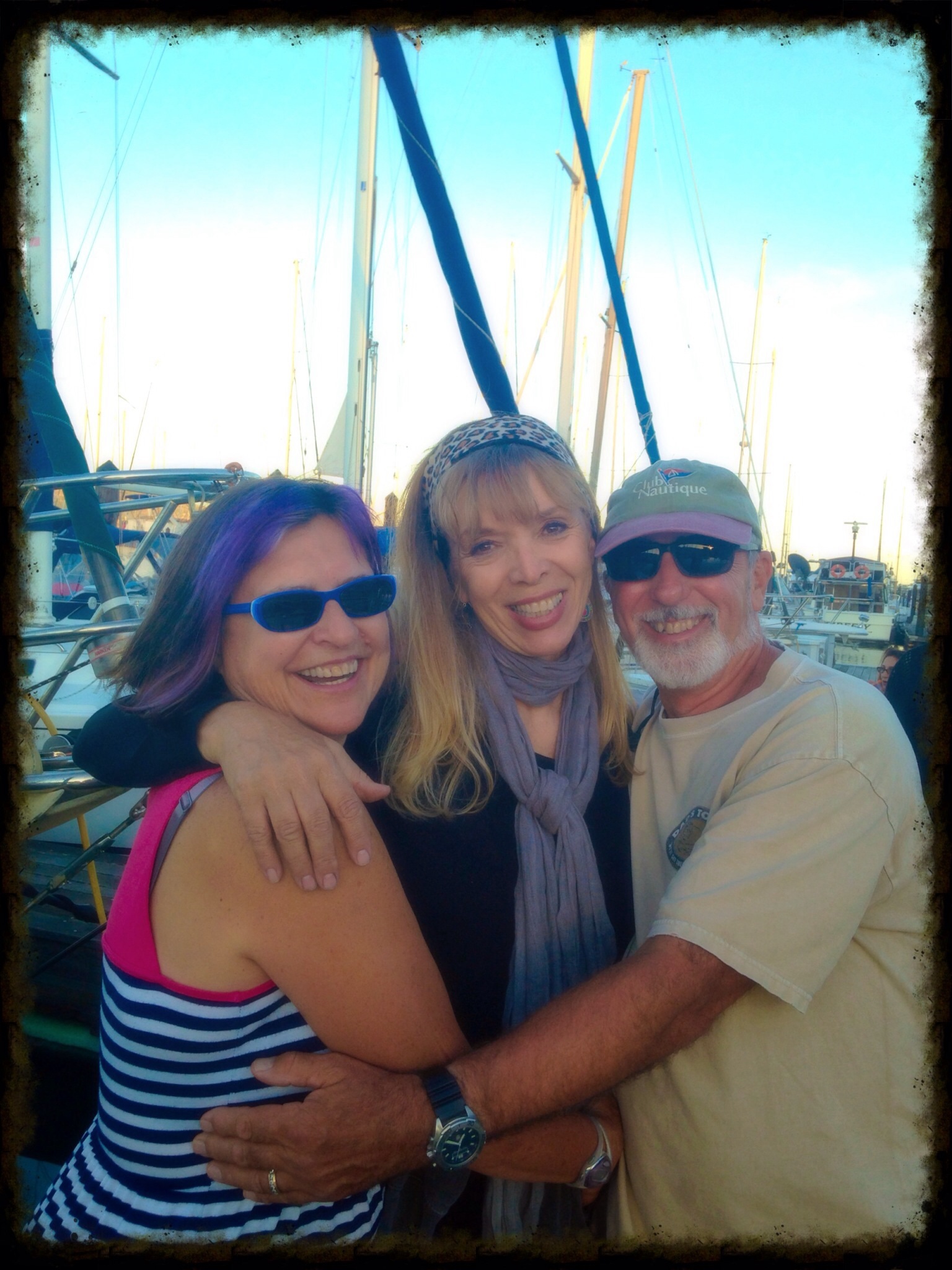 In the last two months before we left we still had some major systems to complete including installing our Spectra 200T water maker, all new communications equipment and solar power system. Cindy had many canvas projects to complete including the new sail cover, weather cloths, and a Bimini top. She also sewed on the Velcro system that we would be using to hold our lightweight Solbian solar panels in place. On our trip down to Sausalito to start living on the boat full time, Cindy started going over a list of what we had left to accomplish and there were still 82 items! This with just 30 days till we were set to leave. The discussion continued on the trip down and we eventually pared the list down to 42 items that needed to be done before we left the dock. The rest could wait and be done when time was on our side. Though we kept checking off the items, we worked up to the last night before we left but we completed all we had committed to. On Saturday 8/29 we had a little sendoff party at B dock and some of the most important people in our lives were able to attend and wish us good travels. It was an awesome night! The week before we had two of our children, Dan and Sarah, with us for a great sail on the bay. We sailed down the city front and around the back of Angel Island into Ayala Cove where we had lunch. Later we sailed back to Sausalito and barbequed on the boat and spent the evening together. We were all wishing Andrew and Andrea could have been with us as well.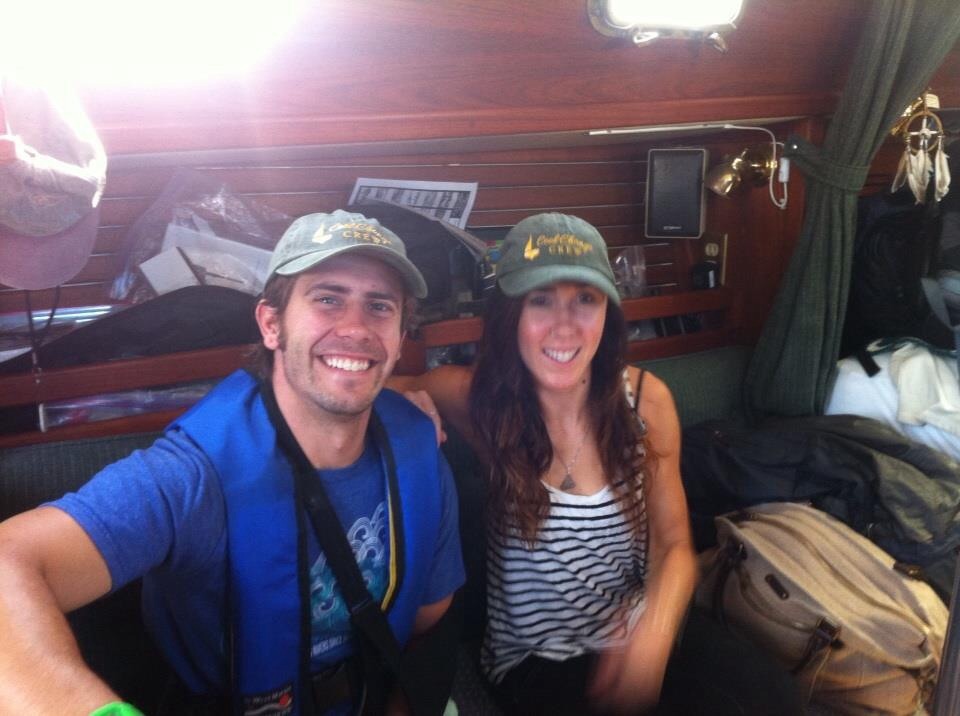 n Dan and Sarah with their new Cool Change hats
We had set our departure time for 11am on Sept 4th and the anxiety as we approached that time was very strong. We had commissioned so many new systems but not had the time to do the sea trials that really needed to be done. Our good friends Dan and Betsy Adamis would be escorting us out the Golden Gate as we started our voyage. They would be on their boat Isla Mia with a few other friends from the marina and would take some photographs as we left SF Bay. In a panic the night before our departure we realized that we had read the currents wrong when we chose our departure window. The SF Bay entrance can be the most challenging entry or exit of anywhere on the west coast. It is not wise to attempt to leave the bay on an ebb (when the currents are going from the bay towards the ocean). This is because the wind is generally going the opposite direction of the current in this scenario and it makes for steep waves and unpredictable current effects. Fortunately it was not to be a huge ebb current that day and adjusting our departure to leave a bit earlier didn't cause any significant issue. Dan got his boat ready a bit early and we were ready to make our exit at 10:30am on 9/04. We had been checking the weather right up to departure and the troubling thing was that there was a mixed swell Southwest and Northwest, which would cause confused seas. This was further complicated by an unusual wind pattern generated from storms far south, which had winds predicted coming out of the Southwest. The problem with this is we were heading south! We briefly considered holding up at Angel Island for a couple of days sorting things out but the wind / wave pattern was not going to improve for several days and in the end we decided to go for it, expecting a bumpy ride and accepting that we would be motor sailing as soon as we headed South till we reached our first destination, Half Moon Bay.
We had a delightful sail out of Sausalito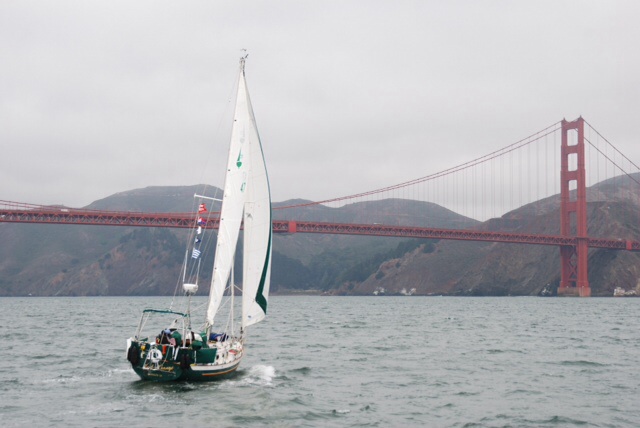 and out the gate into "the slot", which is the approach to the Pacific Ocean out of SF Bay. We decided to go about 8 miles out before turning south to give us some leeway to make our destination keeping a safe distance off of land. As soon as we got into the slot, the confused seas were a challenge and the bumpy ride we were expecting came to fruition. When we turned south a bit past the start of the SF ship channel we were able to shut down the engine and do some more sailing. But due to wind direction we were headed on a line that would take us to the shore in Pacifica, well short of our intended destination. None the less, we enjoyed the sailing as long as we could and then resumed motor sailing. About this time we started getting some very steep short period waves. We were making under 5 knots against the seas and the bigger waves would slow us down to 1 knot and the waves were crashing over the deck. It was very exciting but not very comfortable. Cool Change handled the seas very well in spite of her being heavier than we would have liked. It was a good test of how she will be handling herself as we continue our voyage. We were within about 3 miles of the shoreline near Pacifica when we made a turn and headed west to give us another 4 miles safety zone from the rocky shore. We also needed to clear Point San Pedro, South of Pacifica to get on a track that would bring us into HMB. I was getting concerned that as long as the trip was taking that we would be arriving after dark. This would be OK because in our training we had entered HMB at night and were very familiar with it. We decided that we would spend the night at anchor in the protected harbor area and then get a slip in the morning so we could spend a couple days exploring HMB. As it turned out, we arrived around 7pm and had plenty of light. The Harbor office was closed however, so we kept with our plan and anchored out for the night. It was one of the most delightful nights I have ever had at anchor. The water was calm, no rolling at all and we slept like babies till the morning. Just before we went to bed it hit me: after all the preparations, the boat improvements and maintenance and 3 years of training, we were finally on our way. We had cast off our dock lines and set sail. We were free at last!
Half Moon Bay
In the morning we weighed anchor and headed for the fuel dock and then off to a slip that was assigned to us by the harbor master. Once we were at the dock Friday morning, we took a stroll around town and did some laundry while we waited in a little beachfront Seafood/bar next to the marina. In the evening we went to the HMB Yacht club, who was hosting a cruise in for Emeryville Yacht Club. We enjoyed a couple glasses of wine while talking with some of the folks. HMB Yacht Club is very down home and unpretentious. Nothing fancy and very friendly members. They have a dingy dock where they also store some of their club boats. The dock floats in the bay on a mooring ball. To get to and from shore, you ride on an electric powered raft with standup rails. Very cool. We left and went to a place for dinner that had a very talented 3 piece cover band doing lots of Beatles and Stones classics. We enjoyed watching a room full of white people with absolutely no rhythm dancing to the music and having a wonderful time at it. It was refreshing to see these folks letting loose and to coin a phrase on a plaque at our Rueda host Wayne and Lisa's house… "Dance like nobody is watching."
Saturday our neighbors on the dock in a Catalina 47 were having a birthday party. Saline was turning 30 and had a big bash planned. I told our friend Dan that it felt like being home a B dock! In honor of the party I put out our new solar powered LED green light strings flashing in party mode. During the day we caught the bus and went into the town of HMB. It was kind of a letdown… I expected more of a laid back quaint town from what I had heard, which it was not, though it did have a couple of blocks worth walking, and we found an absolutely wonderful bottle of Primitivo at a wine tasting room. The same folks helped us print out some pictures we needed.
It was good to get back to the dock in the early evening and the party was starting to progress. There were lots of new people and many new pirate hats since we left earlier in the day. A fishing boat came by selling fresh caught Ling Cod, and we bought one that we had for dinner with enough left over for dinner tonight or tomorrow night when we arrive at Santa Cruz. Another delight yesterday was meeting Bob and Ina from Oakland and docked a couple slips away in a Sea Ray 47. They were an older retired couple and we enjoyed spending a little time with them and getting a tour of their beautiful boat. Bob owned and operated a Collision repair service in Pleasanton for over 30 years until one day he woke up and realized it was time to sell and move onto their boat, and that is just what they did. Bob gave me a crab snare, which I am anxious to try once I can legally use it.
Here are some pictures we took of our stay in Half Moon Bsy.