Our trip from Half Moon Bay to Santa Cruz, about 50 nautical miles as the crow flies, was exciting.  At first we had calm seas and insufficient wind to sail, so we just motored with the the mainsail deployed for stability.  Then the wind picked up a little, and we deployed our Monitor Windvane to enjoy sailing without having to be at the helm.  We soon realized, however, that we would touch land before we reached our destination if we stayed on a tack defined by the wind direction, so we furled in our jib and started motor sailing again.
Later in the afternoon, however, the wind picked up to well above 30 knots. We double reefed the main and were still sailing at almost seven knots, which is extremely fast for Cool Change! We made it in about 11 hours, traveling a total of about 60 nautical miles. Here is a link to a video of Rick at the helm:
We arrived in Santa Cruz about 5:30 in the afternoon. After radioing the Harbor Master, we were instructed to dock at the fuel dock to be met by the Harbor Master, pay, and be assigned a slip. We moved up a few docks to a comfortable side tie at the end of one of the east side docks, made ourselves dinner on the boat, and then went out for a drink at the Crow's Nest, a popular restaurant right here at the marina.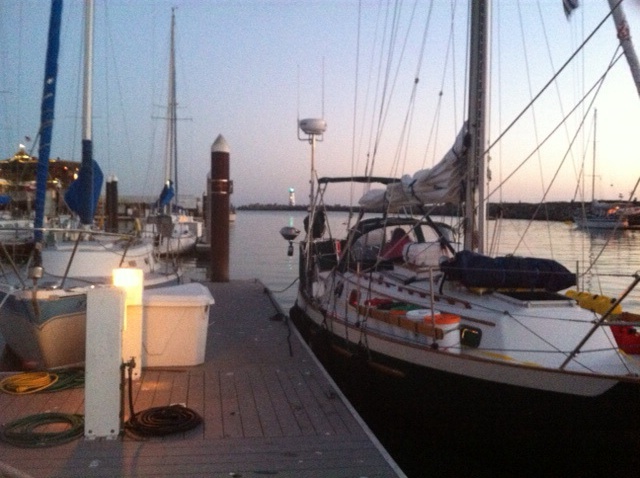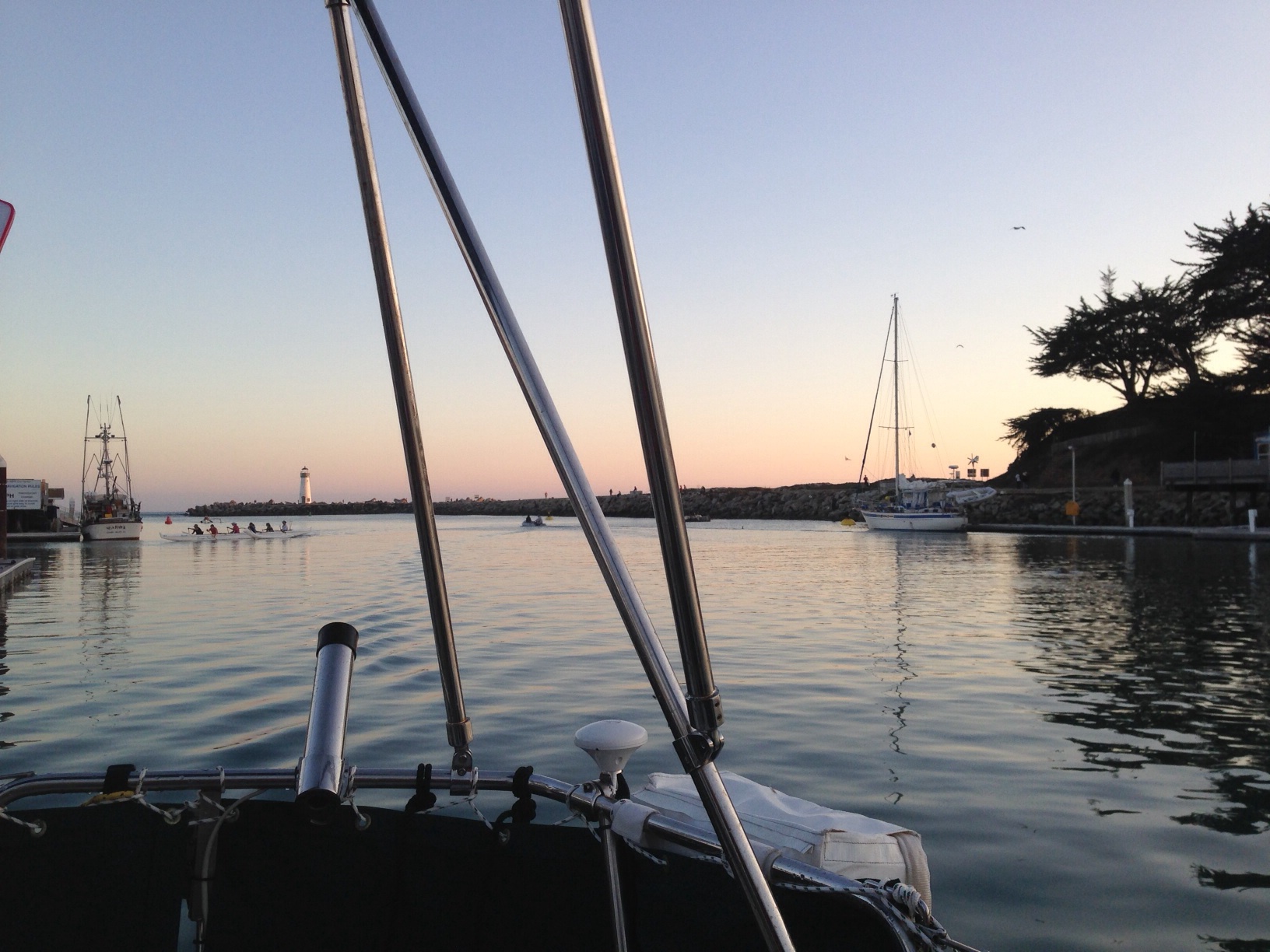 We were all excited to go to the Santa Cruz Boardwalk amusement park the next day, only to find out that after Labor Day, they were closed except on weekends. We decided to have a leisurely breakfast instead at a restaurant across the Harbor, and then take a walk along the beach and into downtown, stopping at the Santa Cruz Yacht Club along the way if anyone was there.
The reciprocal privileges afforded to us by being members of the Presidio Yacht Club have certainly paid off. We were greeted by the Santa Cruz Yacht Club Commodore, offered a beverage of choice, and got to sit out overlooking the marina on their deck. They were so friendly and accommodating!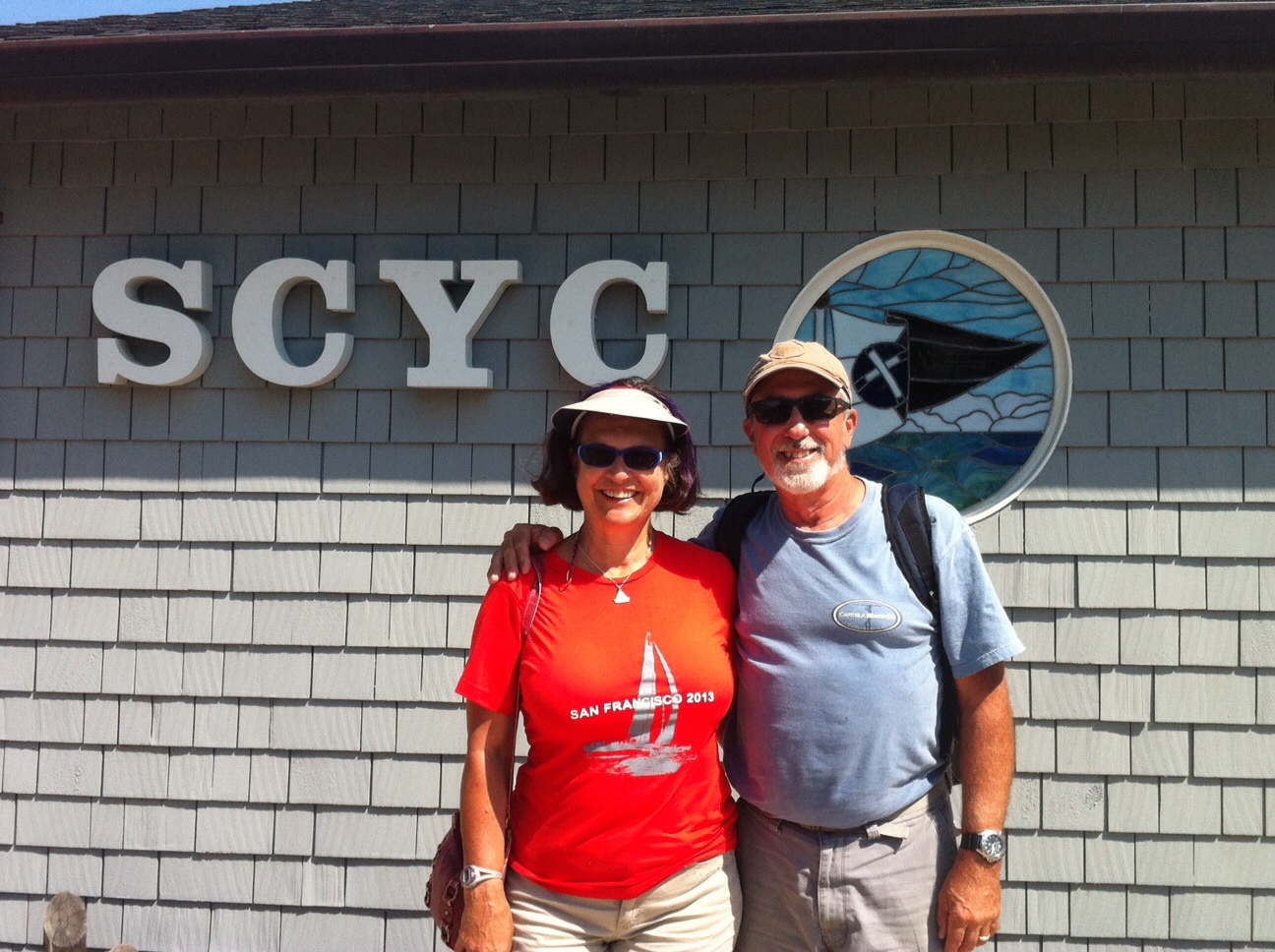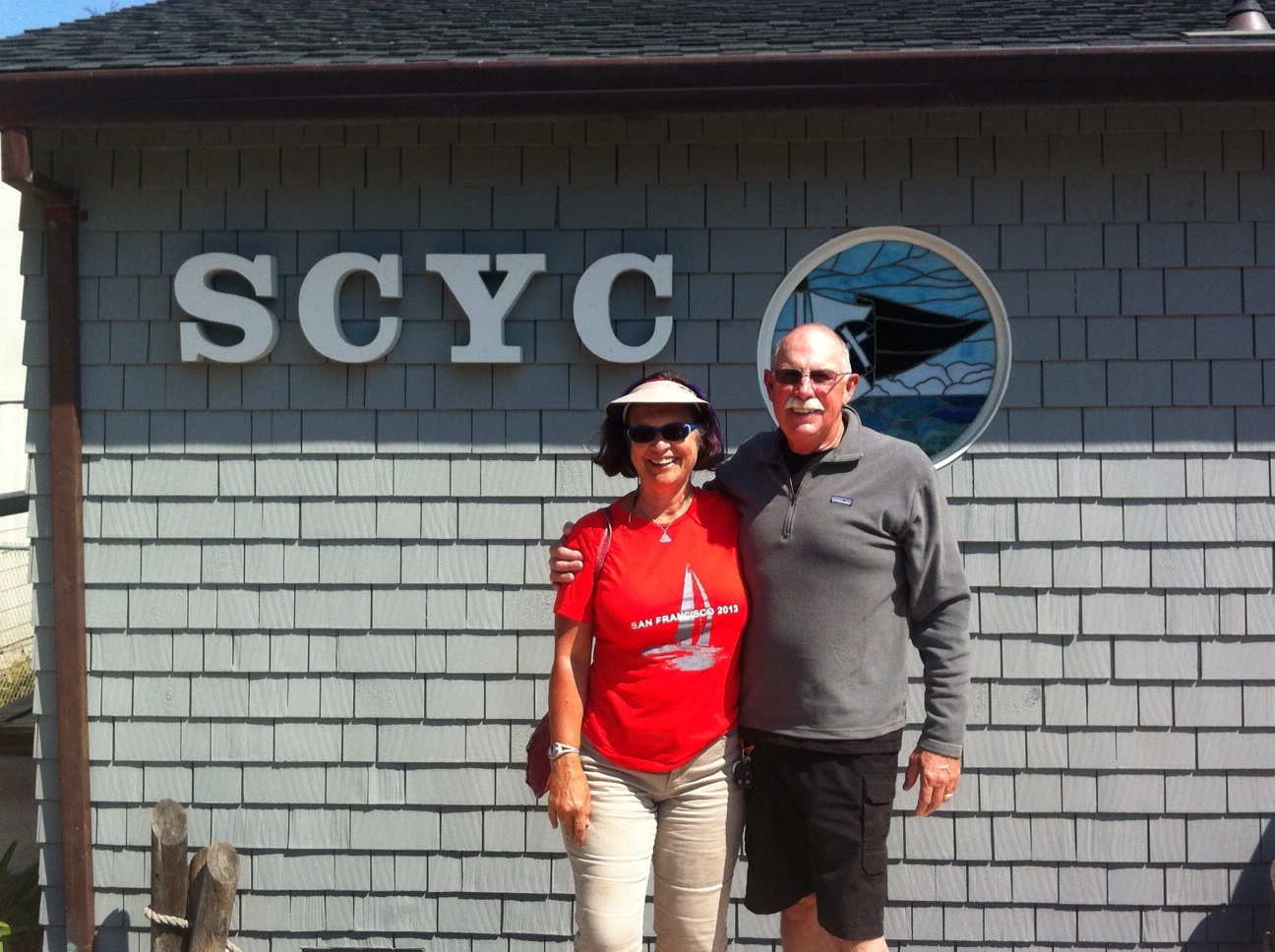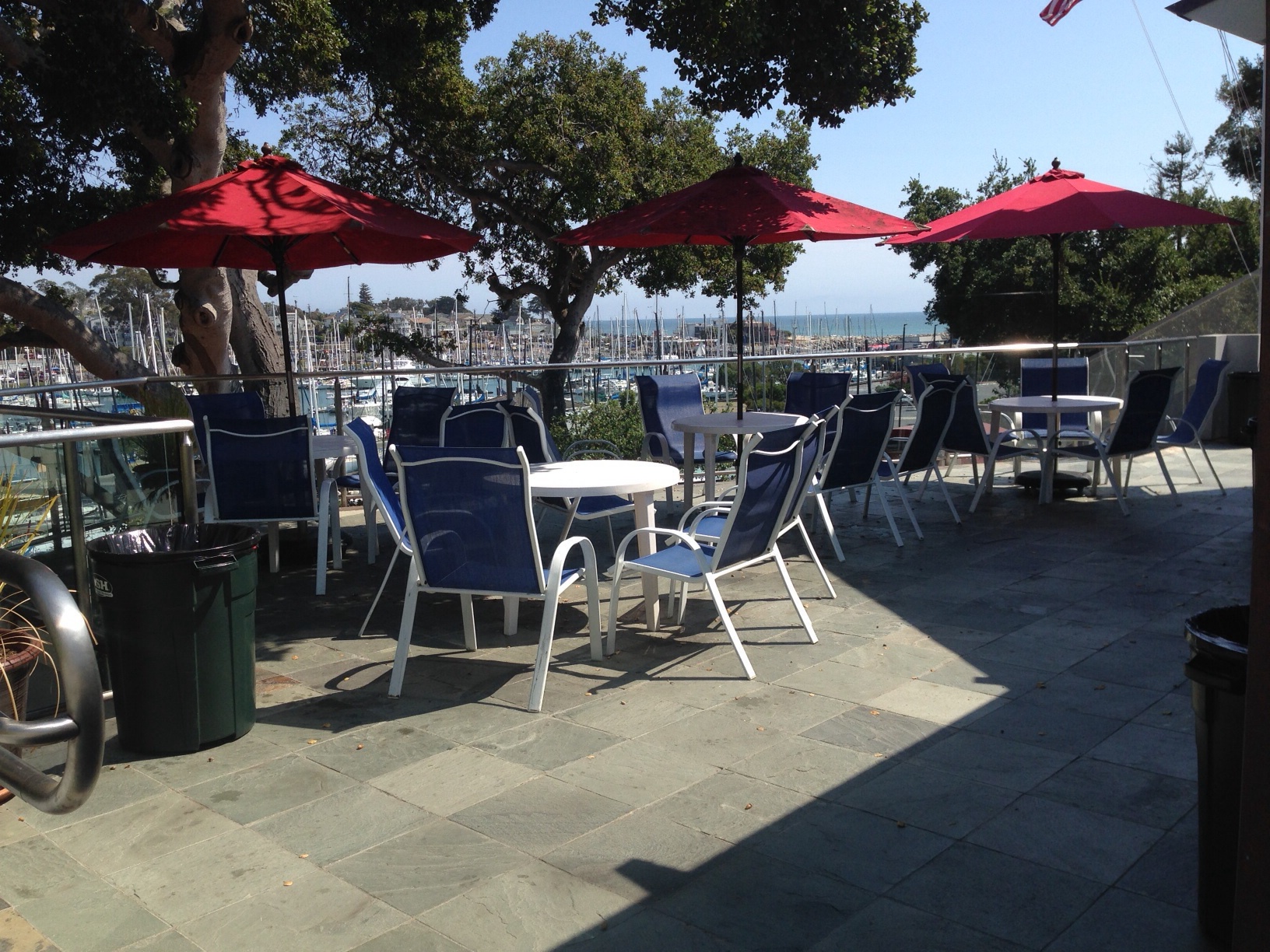 We then walked towards the beach and were able to walk through the Santa Cruz Boardwalk Amusement Park even though all the rides were closed. It felt like something out of a time long gone – when wooden roller coasters reigned, and teenagers kissed for the first time behind the popcorn stand.
After the boardwalk, we headed over to the Municipal Pier and had an ice cream, and then walked downtown. We sure are getting our walking exercise in since we started this voyage! Even using buses requires that you walk to the bus station! We must have walked at least 8 miles today. Downtown Santa Cruz is an odd mix of a flash from the past, like the Haight Ashbury in San Francisco, where smoke shops and anarchists and street vendors abound, combined with a modern flare of laptops and very modern college students studying with earphones on in upscale coffee shops and outdoor cafés.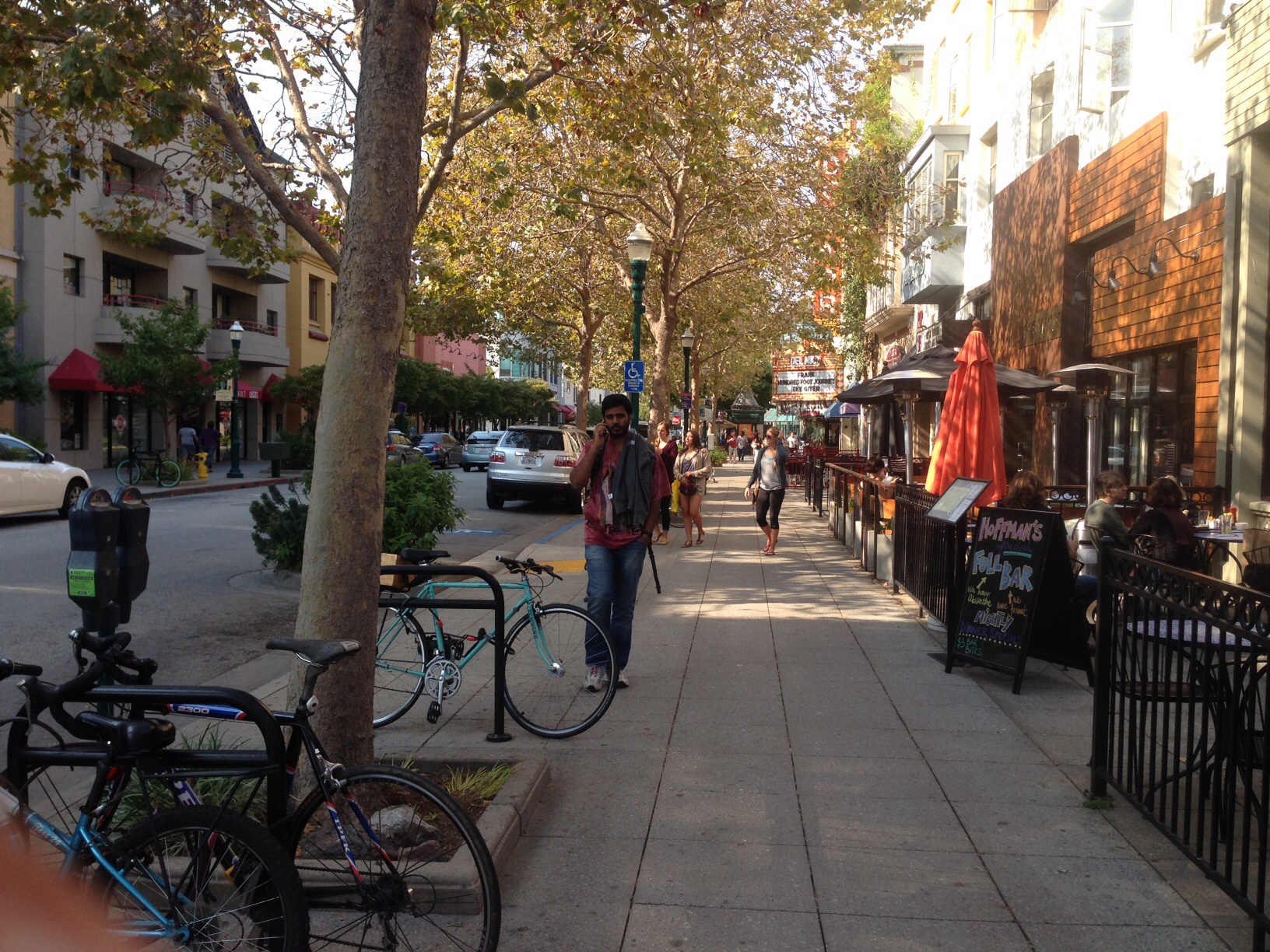 Downtown Santa Cruz
We had had about enough walking for the day so we decided to take a bus back to the Marina. On our way to the bus station, we happened upon a Trader Joe's so we did our food shopping for the evening's dinner plus some. Back on the boat, we had a glass of wine before dinner out in the forward deck. As we sat there, I heard someone calling, "Cool Change!" It was the skipper of a boat called Spinnaker that had passed us motoring while we were sailing down to Santa Cruz. He asked us to call him on our VHF marine radio. We chatted with him for quite a while, and exchanged email addresses. He, too, is heading down to join the Baja Ha Ha with his wife; we hope to hook up with them for breakfast in Monterrey, and maybe buddy boat sailing down the coast a little. They are from Vancouver. How fun.
Tomorrow we plan to sail over to the next town on the Monterey Bay just east of here, called Capitola. We have sailed and driven there before and love it. And the adventures continues!