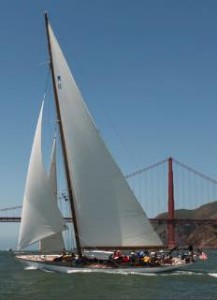 Pursuit Under Sail
Rick was delighted when he got an email inviting him to crew on October 12, 2013 for the first time on Pursuit, a beautiful, 1929 vintage, 82-foot wooden sloop in our harbor.  I think his moment of glory was somewhat deflated when I, too, later got an invitation to crew for Pursuit on the same day.  Apparently, someone had decided it would be okay to invite "the ladies".  There was, indeed, one other woman on the boat, a spouse also.  She was a newcomer to sailing and shy about taking on much.  I think I might have provided her some inspiration in my being, as always, ready to take on the challenge at the very real risk of demonstrating the truth about my being a member of the "weaker sex" and how much more I still have to learn about sailing.  Especially since I was still in recovery from my shoulder surgery, I just couldn't crank on those winches as fast as I wanted to; a couple of times, I had to defer to someone stronger than I was, who felt they needed to step in to help.  But what the heck, if I learn something new, I figure, what do I care?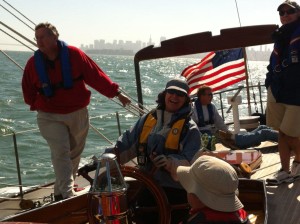 Cindy at the helm of Pursuit
Actually, I think most of the guys got a kick out of this 62-year old woman stepping up to the helm of an 82-foot boat.  When I first took the helm, it was mild conditions; we even ran out of wind totally at one point behind Angel Island.  But then the wind picked up, and I was still at the helm.  The next thing I knew, I was handling her just fine in 25+ knot winds, thank you very much.  It was so exciting to have such a massive boat with such huge sails, all responding to the slightest movement of a wheel controlled by my own hands.  It gives me tingles up my spine even now to think of it. And with our friend Dan nearby providing kind and gentle suggestions, I did, in fact, learn some about taking advantage of gusts to sail closer to the wind, and experienced first hand how there is more leeway close-hauled than at a close reach.  We were close-hauled on a port tack heading west through Raccoon Straits, an odd point of sail for that heading, and we were hoping to avoid tacking to miss the green buoy at the northwest end of Raccoon Straits, but only if I could maintain a heading high enough.  As we approached the buoy, I instinctively tried to maintain a close haul, but noticed that Pursuit kept getting pushed sideways (leeway).  As soon as I fell off a little, the leeway diminished.  We made it past the buoy without tacking, but with only a few boat-lengths to spare. It was thrilling. But enough about me.
Once we got through Raccoon Straits, we tacked and headed back out towards the slot.  The wind was really picking up by then.  Rick then got a chance at the helm.  He really had his hands full, though.  We were getting overpowered.  Just about that time, Captain Ron became concerned that there was too much stress on the wooden mast, and he gave the order that we go back in to the dock.  Rick came about and headed back in, including handling the helm while dousing the sails.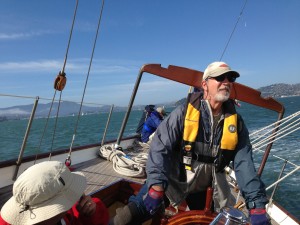 Rick at the helm of Pursuit
Oh my God what a gorgeous boat.  How it handled.  So responsive. A deep wooden cockpit with a small, traditional spoked wooden wheel.   Such long and voluptuous lines.  And so traditional.  Huge winches; the main was on a hand-crank that required two men to power.  There were two sets of running back stays on either side, that had to be loosened and tightened on every tack, best handled by two crew members on each back stay on each side.  None of the winches were self-tailing, requiring two people to operate each winch, and there wasn't time to run from one side of the boat to another, so four people had to handle the sheets for each headsail.  All in all, I think Dan said that a full complement of crew would number at least 20.
Captain Ron has owned the boat for more than 5 decades.  He cares for it like his only child.  Every wooden surface is varnished to a shine and has a cover made for it by his personal sewing machine. Even the blocks are wood and have their own covers.  There are special touches all over the boat to ease its handling, all designed by Captain Ron, an engineer.  He defers to his assistants, Dan and Dan, to handle everything but docking, but he keeps a sharp eye out for violations of his own particular definition of good seamanship, and harshly reprimands the guilty crew member.  I suspect I would become somewhat impatient, too, after watching 20 or so strangers sail my boat and having to teach them and correct them over and over again for over 50 years.  He is a good, kind man at heart, I know it, but he instills fear in every crew member!
Our track that day was quite exciting.  I started recording the track only once we got out the gate.  Here it is: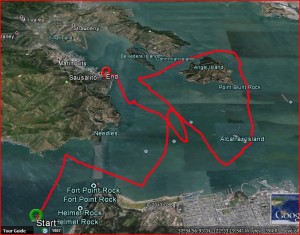 Partial Track of Pursuit: 18.9 nm, 8 hours, max speed 9.9 knots
And here are a few more pictures of our day: