Frankly we were a bit late to jump onto the bandwagon of the America's Cup.  We had bought into the notion that the boats were too dangerous and too expensive, and that the competition would be negligible because so few teams were participating.  But then the U.S. was behind.  Way behind.  What?  How could that be?  And our notions to the contrary, the races were sooo darn exciting!  We threw caution to the wind.  On several occasions within short succession, Rick took off work on the spur of the moment, and we drove the 2 1/2 hours down to the Bay Area to watch the races.  We watched from the two main vantage points set up on the San Francisco waterfront, both at the finish line and west of Fort Mason, and also from our boat, motoring around just east of Alcatraz.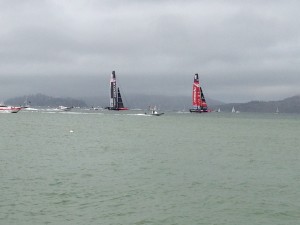 Team Oracle USA and Team Emerites New Zealand, racing by us while we watched from the shore.
On September 21, late in the afternoon, we motored over to Angel Island to BBQ dinner on the boat and spend the night moored in Ayala Cove.
On Sunday, September 22, we left Angel Island in the morning and sailed a bit before settling in to a slow-motoring track, back and forth near the final turn of the races.  This was just as the tide was turning, and Team USA started to win again.  Here was our track for the day.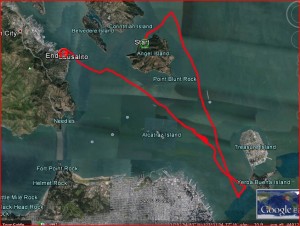 Cool Change Track the day we watched the America's Cup from our boat: 15nm, 6 hours, max speed 7.5 knots
But when we got within viewing distance of the last mark in the race course, we just motored back and forth, as shown in this detail of our track: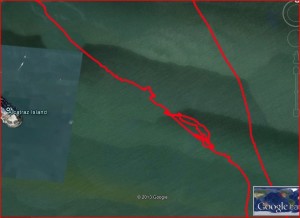 Our motoring back and forth while watching the race
In the end, as most know, USA came from way behind to win the America's Cup, one of the most dramatic examples of a comeback in sports, ever.  At one point, the Kiwi's only had to win one more race to win the Cup. USA didn't let them; USA went on to win 8 races in a row to catch up and win the Cup. Unbelievable.  It was very exciting to be a part of it.