Even though my own CPM Tag trip was ill-fated, not all was lost.  Realizing their own share of the responsibility for the ordeal, Club Nautique agreed to allow Rick and I to test for our CPM Tag in the same boat on the same weekend, as long as we chartered one of Club Nautique's boats instead of taking our own.  By this time, it really didn't matter.  We just wanted to get through the course.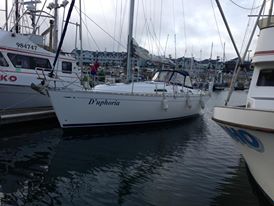 Our Tag Charter Boat, D'Uphoria
So, we chartered one of the only boats in the charter fleet that was not a Beneteau or a Hunter: we chartered D'Uphoria (cute name), which is a 36 foot Dufour.  It is a more substantial boat than the Beneteau's and Hunters, while not quite as luxurious.  It was surprisingly roomy, however, with three full cabins with double berths, and lots of storage space.  And our favorite: it had traditional slab reefing on the main, as opposed to the roller-furling mains of the other boats that we hated for their potential to unfurl in a blow, amongst other problems.
We wanted to know D'Uphoria inside and out before the actual Tag, so we stuck around after the Petaluma weekend and chartered her for a day, on Monday.  We spent probably four to five hours at the dock with her, examining every little feature: where the fuel shut-off valve was, why there was no coolant reservoir, how the radar worked, where that darn last little propane switch was that was preventing us from lighting the stove, etc.  By the time we finished, we could answer every question our crew might have about her, and every question our instructor might throw at us.
Then, we took her out of the dock and attempted close-quarter manuevering and backing into the slip.  Thank goodness we practiced that ahead of time!  This was the first boat we had come across that had a sail drive, and a prop that tended to starboard in reverse.  Way different!  Actually, it was a pretty easy boat to drive in reverse, once you got used to that slight kick to the right.  But my usual technique of backing into the slip by using the "slide" method, so sexy when it works right, didn't work, because it depends on prop walk kicking to the left.  Instead, we had to go past the slip and then back in.  Rick and I practiced over and over again, rotating between us, until we had each done all the maneuvers at least a dozen times.
Then we took the boat out of the marina to test its knotmeter calibration.  It was WAY off. I couldn't believe it until we actually got back to the dock and I looked at the figures: we would have had to have multiplied all distances measured on the knotmeter by 1.7 in order to determine the actual distance travelled!  That would have made for a very tedious chart plotting day.  So, we dug out the knotmeter manual and looked up how to recalibrate the knotmeter.  There was a way to do it, that would set your knotmeter to the actual distance traveled over land.  We headed back out of the marina, over to the buoys where we were marking our distance, ran for a short while in a constant speed and direction in an area with little current, and reset the knotmeter according to the manual's instructions.  We then remeasured the calibration by running the distance between the two buoys, back and forth, again.  It was a lot closer: off by only about 1/10 th of a nautical mile at most.  Our final test would be the day of the Tag, but that was good enough for now.
We finally got D'Uphoria put away about 8 p.m., and started the 3 hour drive home.  I was glad this was my first full week of retirement, so I could recuperate!  Rick had to work, the poor guy!  But we had to be back on D'Uphoria in just four short days …