I AM RETIRED!  WOOPIE!
My last day of work was April 30.  I received a 2 year incentive to retire early, which gave me about 5.4% more of my highest salary each year for the rest of my life!  That was pretty cool.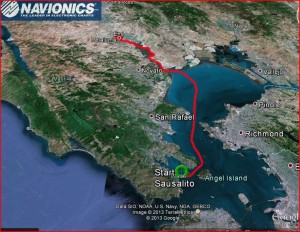 Track up to Petaluma: left the dock at 4:45 a.m., 30.7 nm, 4 hrs and 21 min; Max Speed 7.7 kts (a strong flood)
To celebrate, we took the lovely trip across the bay to the north, and up the Petaluma River, to the quaint historic downtown Petaluma, and it's Turning Basin.  The Turning Basin has a number of side-ties, locked gates for about the price of a slip, electrical hook-ups, and is right smack in the middle of the historic downtown area.  The downtown area has fun, unique shops and lots of restaurants.
We were joined by two other boats from our dock: Isla Mia, Dan and Betsy's 47′ boat, and E Ticket, Mike and Linda's 34′ Catalina.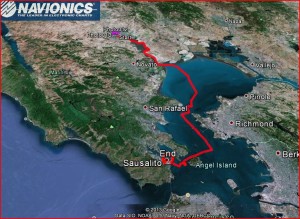 Track home on 5/5: left at 9:50 a.m., returned home at 6:065 p.m.; 36.7 nm; max speed: 8.4 kts; we practiced a few more COBs for Rick's tag before coming home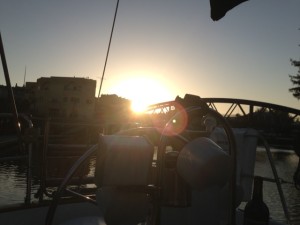 Sunset over the Petaluma pedestrian bridge, taken from the Turning Basin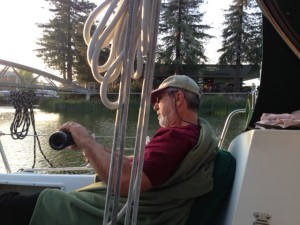 Relaxing in our cockpit at the Turning Basin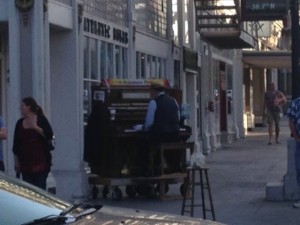 A mobile piano player entertained the historic district each night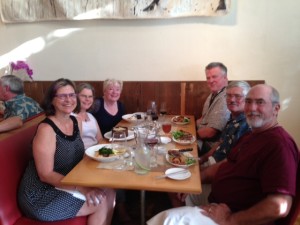 Dinner with Linda, Betsy, Mike and Dan at the Central Market Restaurant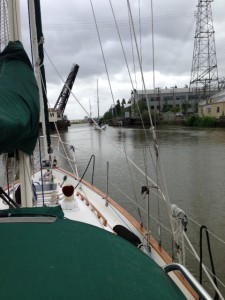 The D Street Bridge opens for us! You have to call in advance