Club Nautique organized a "4-bay cruise" to Monterey Bay over Memorial Day weekend.  Only "CPM-certified" skippers were allowed, unless you had your own boat, and of course, we did!  We thought for a while we couldn't go because Cool Change was in escrow, but then a week before the cruise, the buyers backed out.  That was their loss, our gain, because now we could go to Monterey!  We had gone on overnight trips outside the Gate in friends' boats and with an instructor on our CPM classes now, for five different weekends, but this was going to be our first time out for a long-distance venture on our own in Cool Change.  It was a  big step for us, and we were oh, so excited!
There were 12 boats scheduled to partake.  The plan was to check in Friday morning at 0445 at the Golden Gate Bridge and depart at 0500, to coincide with the early part of the ebb tide, and to allow sufficient time to get all the way down to Monterey in one day, a 77 nm trip.  We planned to leave an hour earlier than that, for two reasons: first, we were a smaller boat so our hull speed was slower and it would take us longer, and second, the slack before the ebb was actually at 0400 and it was preferable to leave at slack.  (Leaving the Golden Gate Bridge at an ebb tide is always risky, especially so when the wind is westerly and there are big swells rolling across the huge fetch of the Pacific Ocean; the swells and wind waves from the west meet the ebb from the east and cause a lot of turbulance).
We'd spent the whole day Thursday preparing every last detail for the trip.  We went to bed early and had our clothes laid out and ready to put on in an instant.  As we went to bed, I checked my email and saw that the next smallest boat in the flotilla scheduled to go to Monterey, a 36-foot Catalina, had tried and failed to depart Thursday morning due to big winds and seas out the Gate, and had decided to remain in San Francisco Bay for the weekend after all.  When our alarm went off at 0230, we were awoken to the sound of the wind howling through the marina, and the rocking feeling of Cool Change moving about in her slip.  We turned on the instruments to find that the wind speed in our well-sheltered marina was 21 knots!  Buoyweather, our paid subscription service weather website, said the wind was gusting to 39 knots outside the Gate (gale force).  Did we really want to venture out alone as the first boat in the middle of the night into gale force winds?  We thought it not wise.  Surely the organizers would come to the same conclusion we had, postpone the departure and modify the cruise plan.  I texted some of the other participants, not wanting to wake them, but received no response.  We had to make a decision.  So we emailed our family and friends who were expecting us to leave, letting them know we wouldn't be going at this hour after all.
Just to confirm that the organizers would make the same decision we had, we kept the VHF radio on as we lie in our berth.  We felt so conflicted about the decision that we really couldn't get back to sleep very well anyway.  Then, at about 0430, we heard from the first boat to check in, a 44-foot private boat.  They were already well out the Gate.  They reported that while the winds were indeed blowing 25 to 30 knots, the waves were just "moderate", and there was really no reason to turn back.   Rick and I reconsidered – should we go after all?  We still decided, no, it wasn't a good idea.  So I called the lead communications boat on the cell phone and told them we wouldn't be going.  After that, one by one, we heard several other boats check in, either at the Gate or heading out.  Everyone else was going!  Oh No!
At about 0450, after most of the boats had already headed out the Gate, Rick and I lie in our berth, wide awake, regretting with every inch of our beings, the missed opportunity.  Then the moment came.  We turned to each other and said, "Let's go!"  Within 10 minutes, we dressed, unplugged the electrical cord, tossed off the dock lines and were underway.  It took us another half hour to motor over to the Gate, so we actually started our track at the Golden Gate Bridge at 0534, a half hour after the scheduled departure time.  And instead of being the first boat, we were the last.
We considered radioing the communications boat at this time, but because we had changed our minds so many times, we thought it best to get out the Gate a bit first, and see if indeed we would hold our course or turn back, before we radio'd in.  The navigation plan and course I had previously calculated was to depart from the Bridge center span and head over to the south side of the ship channel immediately, on a course towards Mile Rock, but as we approached the Bridge, we listened to Channel 12, the Coast Guard Vessel Traffic Service, and confirmed with our Shipfinder web-based application, that three large container ships and/or tankers were either departing the Gate or coming in, just as we were leaving.  So we had to stay on the north side of the channel, at least until they passed.
Well, I don't know if it was because we were facing more of the ebb than the first boat who reported "moderate" seas, or whether it was our smaller boat, but these seas were far from moderate.  Rick was at the helm for most of it because I was the designated navigator for the day (we switched off each day), and besides, my eyesight is not the best in the dark.  For some of the bigger waves, we'd head up the wave, sometimes slowing to just over one knot boat speed, and then, once over the wave, we'd race down into a steep trough, at which point, Cool Change wanted to round down and broach sideways against the wave, so Rick would have to anticipate the rounding and steer up to counteract it.  As navigator, I preferred to wait until we got up to the farthest point away from the Gate along the north side of the channel before we crossed the channel, because it was narrower there, but Rick wanted to cross sooner to avoid the messy water near Point Bonita.  When there was a break in the ship traffic, Rick went for it.  So I quickly ran below to plot the crossing and determine how far he needed to go before he was across it.  By the time I got back up into the cockpit, he'd gone too far!  We then turned back onto a course along the south side of the channel, constantly fighting the waves and wind to get right alongside the channel instead of being pushed into the shoals on the south side of the channel.  The apparent wind was a minimum of 25 to 30 knots, but read 39 knots several times.  And the worst was that nobody knew we were out here!
It was such a relief when we made it to R-2, the first buoy from the sea on the south side of the channel, and turned to the left, downwind.  The apparent wind dropped to 17 knots, we rigged our brand-new preventer line, and off we sailed on a sleighride to Monterey.  I then tried to hail the communications boat on both the designated VHF channel, as well as the Coast Guard hailing channel 16, but no one responded.  Could they actually have gotten that far ahead of us that we were out of radio contact?  I emailed our family members and friends again, just for the record, to note that we had changed our minds again and were on our way, so that at least someone would know we were out here!
When we finally were able to reach someone on the radio, it was the first boat who had checked in earlier in the morning; due to crew seasickness, they had decided to stop for the day at Half Moon Bay rather than continuing to Monterey.  They told us that the reason we were unable to reach the lead communications boat was that it had had an accident and had to return to Alameda!  No wonder we hadn't been able to reach them!  Apparently, as the lead boat was departing an unfamiliar yacht club mooring in San Francisco near the Gate that morning, they had a collision with an unlit, large, metal mooring buoy, and put a "hole in the hull"!  OMG!  Over the course of the day, several other boats also bowed out early and held up at Half Moon Bay due to crew seasickness.  (Okay, I'll have to confess, I got sick too; but it was just a quick perging and a few minutes of discomfort and then it was gone; this was the 11th day I had been out into the ocean in a row without getting sick, so I figure my odds were still pretty good, as long as I continued with the patch Scopalomine; Rick, on the other hand, has an iron stomach, which his father insists is due to his Greek heritage, and never even gets queezy).
There were a couple of times when secondary waves crashed into us on the side, resulting in a slight "pooping" of the deck; once when Rick was at the helm and once when I was – each time, we got sprayed with seawater from head to toe, and the floor of the cockpit filled with maybe 4 or 5 inches of water.  I couldn't figure out why it wasn't draining faster until I realized I had my feet braced at the exact place on either side of the cockpit where the scuppers were!
But the excitement for the day wasn't over yet.  As we approached Monterey Bay about 7 nm out to the west, we released the preventer and then changed course onto a beam reach to approach Soquel Cove in Capitola where we planned to moor for the night.  The apparent wind instantly picked up to at least 25 knots, with gusts to well above 30.  Cool Change healed over and we sped like a race horse to the finish line, all the while being careful to maintain a course with the waves still slightly to aft, and again having to anticipate the tendancy for Cool Change to round up and broach into the waves, steering downwind to counteract.    What we thought would take us over an hour was over in 40 minutes!
In all, only five of the original 12 boats made it all the way to Monterey that day, and we were one of them.  Of course, we arrived later than everyone else, but still made it in 13 hours at an average speed of approximately 6 knots, which wasn't bad for a boat with a nominal hull speed of 5 knots.  At some point, we clocked 9.2 knots, which is I think the fastest we have ever gone!  We must have been planing above the water!  That was probably sliding down one of those larger waves on our sleighride to Monterey.
When we arrived at the mooring balls, a kind gentleman in a large dinghy ("water taxi") motored out from the dock to help us tie off.  Rick and I were so beat that we fell asleep before dinner!  I woke him up at his request to stagger out and BBQ some marinating shrimp, and I managed to roast some asparagus, which we nibbled on before climbing into our v-berth for the night.  We planned on getting a good night's sleep and leisurely rising in the morning, but the mooring field rolled a lot so the sleep wasn't as sound as we would have hoped.  It was lovely there, though.
The next day, rather than joining the few determined souls who sailed over to Stillwater Cove in Monterey to accomplish the 4th bay goal for this trip, we decided to limit our trip to 3 bays only, and stay in Capitola for the day.  We hopped onto the water taxi for a ride into town.  We did have our dinghy and motor, but putting it away and washing it off back home was a chore we hoped to avoid by not inflating it in the first place unless we had to.  And the water taxi was only $2.  Capitola is adorable.  Here are some pictures.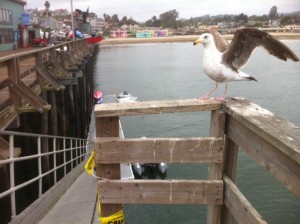 On Sunday morning, we headed out just after 0500 for what turned out to be a 13 hour motorsail for 58 nm up from Capitola in Monterey Bay, to Half Moon Bay.
We averaged only 4.5 knots, with a max speed of 5.7 knots, heading as much into the wind as we could while keeping our mainsail full, albeit reefed and traveled up.
Everyone else, having larger boats and faster hulls, left later than we did and nevertheless passed us up on the way, all doing the same as we were – motorsailing.  However, as you can see from our track, we did try to keep our mainsail full, so we did tack somewhat more than if we had just motored straight up.
The highlight of the day on our way up to Half Moon Bay was a two-whale sighting.  For a good three to four minutes, we watched two whales off our starboard bow, spouting and playing in the water.  They were swimming parallel to our course, their bodies undulating through the waves.  How glorious!
Here is a link to Rick's video of the whales:
https://dl.dropbox.com/sh/c123y2jm1043kf4/EN_dV6l5Hi/Whale%20sighting.3gp?dl=1
And here is another one, taken by one of the other boats on our trip, at a different time on the same day:
https://dl.dropbox.com/sh/c123y2jm1043kf4/A6tVg8EZtF/Whales-PaulKoenig.MOV?dl=1
By the time we arrived at Half Moon Bay, the folks who had driven down from San Francisco to join us had a good start on the party.  We were told our slip was a starboard tie but when we got there, it was port, so I had to back in rather than moving all our dock lines and fenders; maybe the fact that the party was well underway made it so our flotilla-mates didn't notice so much that it took me two tries to back into our designated slip!  I was anxious to get cleaned up and checked in, and by the time we finished that, the party had moved over to the Half Moon Bay Yacht Club.
The Yacht Club treated us to a pre-paid dinner of steak and veggies, and had a very reasonable no-host bar.  There was a large crowd, obviously having a Memorial Day get-together that we were able to join.
As if to save the best for last, the trip up from Half Moon Bay to San Francisco on Monday couldn't have been better.  The sky was blue, the seas were gentle, and best of all, the wind decided to blow just right for the direction we needed to head.  Once out of the harbor, we were able to sail up the whole way.  The course was a little more westerly than to Half Moon Bay because we were heading out to the beginning of the shipping lane near the San Francisco Sea Buoy ("Lightship").    So we were close-hauled up to the shipping channel, making a surprising 6 to 7 knots in only about 12 to 17 knots of apparent wind.  Then, as we crossed the shipping channel and headed downwind towards the Gate, we fell into a deep, broad reach.  We deployed our preventer once again, and even though the jib winked a few times, especially with some good-sized waves hitting our port quarter, our point of sail was fine, and we skated into the Bay with following winds once again.  This time, however, the seas were with us – we were entering at slack before flood, just perfect.
All in all, we sailed  168 nautical miles in 32 hours over 3 days, with a day of rest in between.  This was the longest trip we'd taken in Cool Change to date, and she performed like a dream.  Cool Change Rocks!