After all our inland travels, Rick's trip to San Francisco, the hurricane scare, and then rushing off to be with Bev in Michoacán for Noche de Muertos, we were ready to just get back to the boat and get her out sailing for the first time in more than six months! We finally got her out on November 16.
There were a few reasons why it took so long to recommision her, partly because we didn't have all of our maintenance items finished. We were so grateful for Chava, our boat maintenance guy, because he has a number of skills, one of which is knowing how to prep and paint metal. The paint was starting to peel on the mast, which was starting to rust. Chava went up the mast and prepped the peeling spots and repainted them. Those spots included where the clevis pin goes through the mast to hold up the backstay. (Believe it our not, the cotter pin holding the clevis pin had been left out by Hansen Rigging in Alameda when they worked on our rigging before we left San Francisco. We didn't discover it until we were in Puerto Vallarta. This is probably the most dangerous single piece of 50 cent equipment on the boat to be missing. The whole rig could have collapsed. But that is another story). Anyway, we needed to support the rig with a halyard in place of the backstay so Chava could paint the mast at the top, and that took some careful planning. Then, we had to contract with a local rigging guy to "tune" our rig on the water after Chava finished.
Rick also finished his stripping of varnish and recoating with Cetol for all the exterior wood, and I finally finished the complete cockpit cover for rain and bug protection while at anchor. We anticipate needing some bug protection when up in the Sea of Cortez this spring, if not sooner.
And as our stay at Paradise was nearing the end, we took some time to enjoy all it has to offer, including a lovely beach and gorgeous sunsets.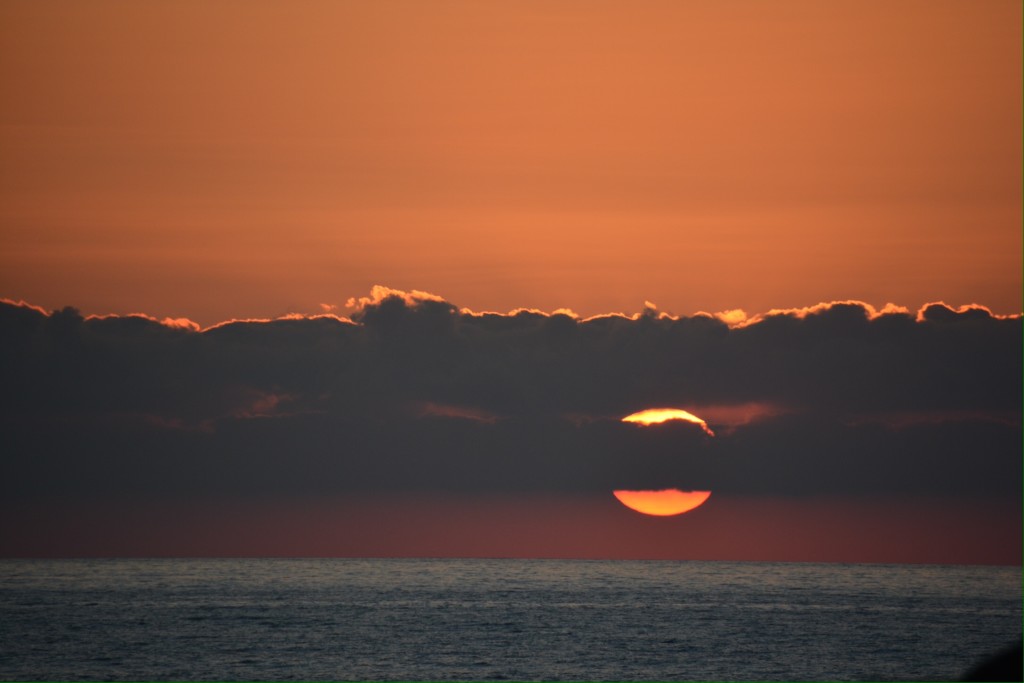 Those people who actually hung out all summer down in the canal end of Paradise Village marina were very few, so we all became pretty close just because we were neighbors.
As the holidays approached, I felt a longing for family and friends. The darkest moment actually happened on Thanksgiving, when Rick and I found ourselves with near complete strangers at an expensive dinner put on by the Puerto Vallarta Yacht Club. Don't let the name fool you – there are not many members of this yacht club who actually own a boat anymore, and they treat outsiders as if they themselves were an exclusive club although I really saw nothing to be exclusive about. Anyway, I don't think anyone of the "insiders" even said hello to us. At least we had our neighboring boat owner Lou and his date to sit eith, or we would have been completely alone. Not the way to spend Thanksgiving, when you are used to spending it with family, and everyone on facebook is giving thanks for all the love they felt that day.
So it was really a welcome change when our family and friends started visiting us. Two days after Thanksgiving, as a last minute plan, Brian arrived, Rick's longest friend, and the best man in our wedding. We enjoyed four full days and evenings with him, and stayed with him until our attention was diverted to the impending long-planned arrival of my sister Kim and her son Bob, who stayed for several funfilled days. Less than a week later, our son Dan and his partner Sarah arrived, we sailed out of Paradise and stayed in a fantastic open air accomodation in the remote village of Yelapa, followed by a sail over to another small town in Banderas Bay where there is a marina called La Cruz de Huanacaxtle. Here is a bit of the story of their visits in pictures:
After Dan and Sarah left and we came back for air, we spent Christmas eve at a little local German restaurant, and Christmas day calling family. Now we are wandering the streets of La Cruz, catching glimpses of things we will cherish from this little town, and picking up last minute supplies before we sail away.
If the weather cooperates, and we have been watching it carefully for the best "weather window," we will check out of La Cruz marina and port captain tomorrow, Tuesday, and sail up to Punta de Mita, just a few hour sail, to spend the night on anchor. The next morning early, we plan to round Cabo Corrientes, which means Cape of Currents! It is the Mexican version of Point Conception in California, where the coast changes direction and the wind and currents go all which ways, making for a challenging ride at times. Hopefully we are picking a time that wont be too challenging. After all, our rapid response sailing skills are a little rusty!
After that, we plan on mosying down the coast at a turtle's pace, to make it the 300 miles or so to Zihuatenejo by the beginning of March for the International Guitar Fest. Most of the places we will stop have no marinas so we will be anchored out. Our long-distance wifi antenna broke due to weather damage, so we probably won't be picking up much wifi and I therefore won't have much opportunity to blog. But stay tuned, I hope to have some fun adventures to report soon!
In the meantime, Happy New Year from Cindy and Rick!