We arrived in Santa Barbara in late afternoon of September 24.  It is wonderful.  We are spending another week here, waiting out the big swells from a northern storm before we plan our next move.
Our trip so far:
The first night we were treated to a free slip by the Santa Barbara Yacht Club. What a club! It is situated right on the beach, provides great views, and offers lunch and dinner 5 nights per week. We could hardly pull ourselves away.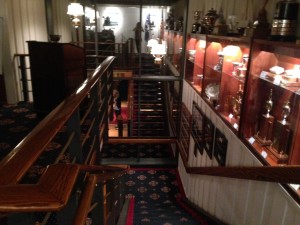 The Santa Barbara Yacht Harbor is one of the most impressive harbors we have seen. It is huge. Maybe this is a preview of what we will see in Southern California, where there are just a lot more boats and a lot more people. If you want a slip in Santa Barbara, there is no place to go but here – only one marina here, to serve a huge city, so it is big. The docks are cement and really wide, and workers clean the bird droppings every day. Garbage cans are conveniently located. There is a huge laundromat for boat owners only. The bathrooms and showers are ample and clean. It is staffed 24 hours per day. Palm trees surround the harbor. I feel like I am in some fancy resort! And for under $30 per day!
The City of Santa Barbara is just as impressive. State Street, the main shopping and entertainment street of town, has been engineered to encourage walking. The sidewalks are wide and tree-lined with lots of benches and sitting areas. There are side courts with little cafés and all kinds of unique shops, with major department stores like Nordstroms, Saks 5th Avenue and Macy's there too. But the street itself is just one lane in each direction – the traffic is designed to move slowly and comfortably, diverted to other streets for faster moving traffic. There are ample bike lanes. How lovely.
We went to a farmer's market downtown on Saturday. So hip.
Soon we must pull ourselves away from here – Santa Cruz island in the Channel Islands beckons. We will be anchored out there, with no internet, for up to a week. Today we did a major shopping in preparation for being away from stores for a while. But you can always find us by our tracker. We will be back in touch as soon as we have internet again.