While in Morro Bay, we befriended a couple we had first seen in Monterey – Dana and Keith on their 48-foot Beneteau, Optimus Prime. They were scrutinizing the weather as intensely as we were. Like us, they had never rounded the foreboding Pt. Conception before either, but had heard the same stories we had – huge confused seas that the USCG call the "Cape Horn of the Pacific". There were debates about how far to go out to sea from the Cape, what sail configuration was best, how close to go to the multiple, extremely brightly lit oil platforms, whether kelp was going to foul our propeller, what hour was best to round the Point, and of course, what weather conditions were best and when they would occur.
Up until the morning of the day of departure, none of us were ready to commit to the departure. There were persistent "small craft advisory" warnings in the vicinity of the Point by NOAA. Rick argued that we were in no hurry, so why depart for the most challenging rounding on the entire California coast during a Small Craft Advisory? I was ready to concede until I looked at the forecast. It was going to do nothing but get worse and worse for the foreseeable future – which meant at least one more week in Morro Bay. It was a beautiful place, but neither of us had seen anything of So Cal and were anxious to have enough time there too. Tuesday night/Wednesday morning rounding of Pt. Conception was the last good window for at least a week – after that, a northern swell from a large low pressure system heading east across the Pacific would make the rounding much more treacherous. And we really didn't understand the basis for this particular Small Craft Advisory anyway- the conditions didn't appear to warrant it.
So, independently, Optimus Prime and Cool Change both decided to leave Morro Bay about 5 p.m. on Tuesday night, September 22. With their much longer waterline and their decision to motor the whole way, they were planning on reaching the 15 nm stretch from Pt. Arguello to Pt. Conception at about midnight. We decided to slowly sail towards the cape, to reach it about dawn. Our analysis of the previous days' conditions suggested that dawn would be the kindest too us.
Rick and Keith set up a communications plan that let us both test our long range radio systems (SSB). We heard them and that was comforting, but they hardly heard us. We are still exploring why.
Well I don't know if it was the hour we rounded or the type of boat we had, but Cool Change handled the rounding with grace. Yes, we had rolling seas, but nothing that brought cause for concern. Probably the most concerning moment was when we noticed that the tack of our mainsail when second reefed looked a bit askew. Rick double tethered himself and went up to the mast to check it out. It turned out that several screws were either loose or lost on the cars on our brand new mainsail. He tightened what he could and we hoped for the best until the next port.
Rick never needs seasickness medication; I do. I can count on Scopolamine, a skin patch, to keep me functional, albeit a little groggy, as if I had had a glass of wine or two. But it is far better than the alternative. So mind you that the following video was recorded at daybreak after 12 hours underway, and under the influence of drugs!
Click here for video of rounding Point Conception
We were actually very lucky, quite grateful that the seas were kind to us, and even more grateful that Cool Change is so seaworthy. We did clock over 30 knots at some point during the rounding, as evidenced by this snapshot of our wind meter: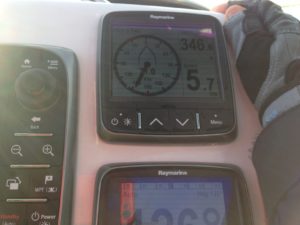 31.8 knots true wind
The most challenging part of the rounding was actually the beginning, near Point Arguello, rather than at Point Conception itself. At the beginning, the seas were coming at us from what appeared to be every direction, and the oil platforms loomed ominously in the distance, like seaborne missile launchers. But as the sun came over the horizon and Point Conception neared, the seas calmed, we cut the corner to minimize beam seas, and all was well. We had made it!
One of many Oil platforms
Sunrise over Point Conception
And finally, after getting around the Cape, the weather cleared, the seas calmed, and we were greeted by dolphins all around as we headed into Santa Barbara. Welcome to Southern California!