In our ongoing sailing education, the next step in the US Sailing Coastal Passage Making certification process through Club Nautique was for each of us to be the student skipper of different vessels, with crew randomly assigned to us from the pool of other students, and an instructor on board to evaluate us.
I was assigned the 41-foot Hunter called "Unleashed," and Rick was assigned the 49-foot Hunter called "Belle Colette".  I was glad to get the smaller boat, although it was probably just because I had been navigator on Belle Collette already, and Rick hadn't sailed her yet.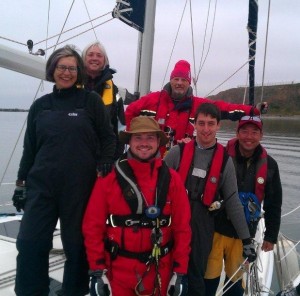 Cindy (left), Crew and Instructor on Unleashed
I was nervous.  Even though Rick and I generally swap "skipper" roles on Cool Change every hour, he had always been there to make subtle sail trim suggestions even when I was skipper; he wouldn't be there this time.  Could I make the right decision at the right time without him?  Any doubts I had, with great effort I consciously forced them into a subservient corner of my brain in favor of capitalizing on my assets of being a relentless organizer and believing in thorough, advance preparation.  Fortunately, my instructor valued those qualities (not all do).  The work that was done before we ever laid eyes on the ship make the weekend go much more smoothly.  Between coaching my navigator on his plans, outlining the roles, setting up the cooking and watch schedules, preparing the MayDay instructions, etc., I felt pretty good that things would go smoothly on the trip.  My confidence was boosted when all of our docking practice on the same boat in the same slip the previous week paid off – the docking and maneuvering components of my skipper test went flawlessly – I backed in to the slip with the "slide" approach, which frankly is kind of classy!  My pre-cruise talk was about as thorough as one could get – I touched on every possible safety/emergency scenario I could think of, and recruited the crew to take an active role in planning, and the instructor complimented me on the talk.  (I think my river guide experience may have helped out here a bit).  And I had a crew of willing and able sailors, who respected my authority but also contributed their own skills greatly to our success. We found ourselves all rooting for each other as a team; this was the ideal situation I was hoping for but wasn't certain would happen.  There were, of course, some minor personality issues, but nothing that couldn't be handled for a weekend together.  Our instructor was outstanding; I was so relieved that he was such a thinker and so rational – I think he was both an engineer and a Ph.d. in physics or something like that! He talked a lot and gave a lot of good advice, as well as many exercises for both me and the rest of the crew to ponder, before and during the trip.
Rick (far right), crew and instructor on Belle Colette
Rick had a different experience, but I believe, equally satisfying.  He found preparing for Skipper to be a lot more comfortable for him than preparing for Navigator, the last position we had tested for.  He slid painlessly and willingly into the role, as though this is where he was meant to be all along.  His instructor took a back seat approach and instructed Rick to make all the decisions without hardly any feedback, so Rick did.  His trip didn't start out so well, when they discovered while motoring to Richardson Bay that the fuel tanks, which appeared full at the dock but couldn't be verified due to a broken fuel gauge, were actually close to empty.  So he had his first tight manuevering exercise in a real-life situation, having to motor over to the fuel dock in Richardson Bay.  That has a shallow entrance and a narrow exit for a 49-foot boat, but he did great, again in part due to our motoring practice the week before, and in part due to the fact that we know that fuel dock well, since it is the one we go to for Cool Change.  What good fortune!
All the class boats that weekend went to the same place – Half Moon Bay.  We started out Friday night by sailing from Alameda to Richardson Bay.  We had a late start of after 2000 and weren't making much headway because the wind was coming from exactly the place we wanted to go to.  At one point we considered taking a slip at South Beach Harbor (I was surprised the instructor would have allowed that), but there was no room.  We finally put out enough sail and changed our point of sail sufficiently to make some headway, and got ourselves over to Richardson Bay about 2200.  That was okay, because the tides wouldn't let us leave until later in the morning anyway.  As we were about to leave the gate, our engine overheated.  Oh dear.  I probably had the rpms too high, trying to get under the gate before a swimming race crossed our path, but we handled it okay.  We idled the motor, raised the sails, turned off the motor, cleaned a dirty raw-water intake strainer, and watched the engine temperature drop, and were able to motor sail out the gate without hitting any swimmers!  Phew!  From leaving the Alameda dock to getting to Half Moon Bay, my Navionics track showed we sailed about 64 nm at a max speed over ground of 8.6 knots.  It was fairly good weather the whole way.
In Half Moon Bay, we rafted up with Rick's boat and got some pictures.  Club Nautique staff could never remember another situation where a husband and wife team each tested for skipper on the same weekend, so we got our pictures in the Club's newsletter.  We anchored out Saturday night and had a lovely return trip on Sunday back to Alameda.
And we both passed!