Rick and I spent nearly seven weeks in Taxco this summer studying Spanish.  We rented a "villa," complete with pool and housekeepers, with friends and dogs from two other sailboats: Nancy from Aldabra, and Jules and Jeff with their dogs Roxie and Chance from El Gato.
Pictures of our villa: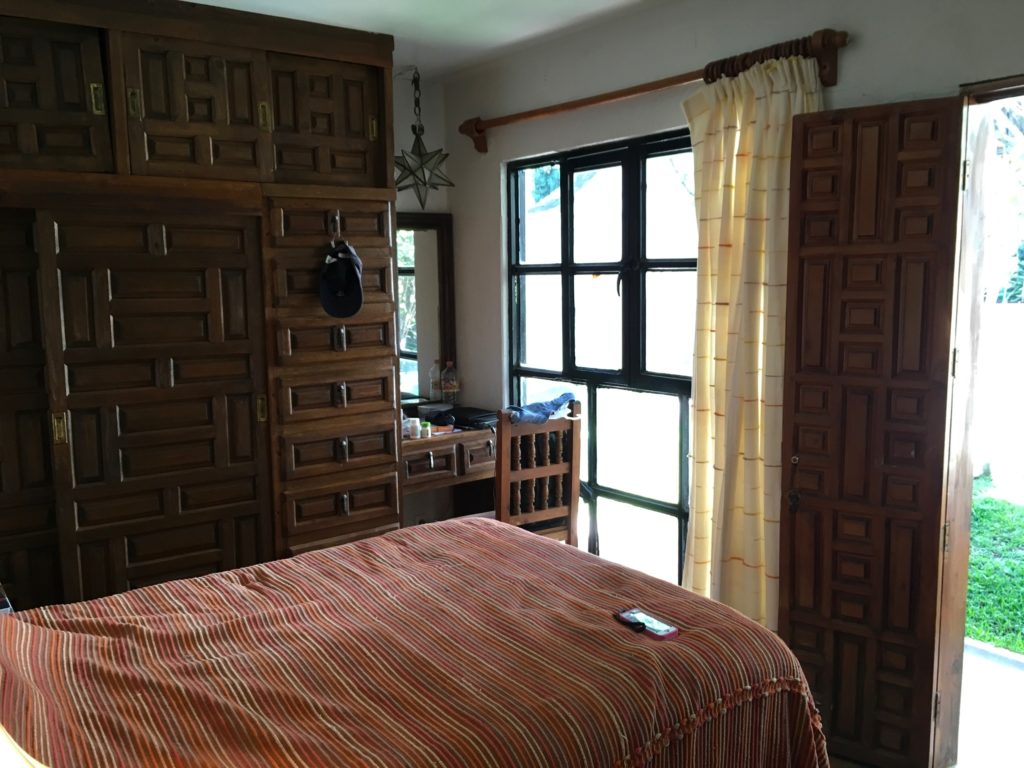 Taxco is about two hours southwest of Mexico City, nestled into steep, green mountainsides.  All the roofs are red tile and all the structures are either brick, stone or painted white.  All the roads are black, slippery pieces of stone inlaid into dirt or cement, narrowly traversing steep hillsides. Taxco is known as the silver capital of Mexico. While it no longer has active mines, a gay gringo named William Spratling put Taxco on the map in the mid-20th century as the silver jewelry-making capital of Mexico, and it has kept that reputation over the years.
One of the first buildings erected in the City, in the 17th century, is an ex-hacienda once owned by the brother of the Spanish conqueror of Mexico, Hernan Cortez.  The structures of that complex now house the Centro de Enseñanza para Estranjeros, or CEPE.  This is the school for foreign students of Spanish, which is a campus of the prestigious UNAM, the national university of Mexico.
When Rick and I visited Taxco two years ago, I took him to CEPE because I knew he wanted to study Spanish, and because I had graduated from the Mexico City campus of CEPE-UNAM 30 years ago and I knew it was reputable.  He fell in love with the town and the campus and decided he wanted to study there.  Last year's hip replacement got in the way of studying then, but this year we decided to go for it.  Our sailing friends decided to join us.
Pictures of the school and a couple of our teachers:
We had high hopes for several weekend excursions while here, but two things foiled that plan: lots of homework, and lots of illness.  This was a serious academic program of about 4 hours a day in classrooms of one to four people.  For Rick, Jeff and Jules, it was their first exposure to intensive Spanish language learning, and they were at the earlier stages so there was just an overwhelming abundance of material to learn.  And they were so darn dedicated and committed to squeezing everything they could out of these classes that our routine basically became breakfast, school, study, dinner, study, sleep, and repeat.  Weekends were studying all day and going out to dinner at night, our one relief. For Nancy and me, whatever repreave we had due to our past knowledge of Spanish was made up for by the assignment of reading 350 pages or so of two dense books of Spanish language literature, with reports due on both.
Fortunately or not, I also got pretty darn sick about the second week into our stay, affording me plenty of time to read all that literature while lying in bed.  It started with what felt like a respiratory flu, but the cough and congestion lingered. Then I got a fever, so I went for a brief doctor consultation and got some antibiotics and other medications. Five days later, the fever was still waivering at about 102F, and every time I stood up I thought I would pass out.  So I went to the hospital.  They discovered my blood pressure was dangerously low (70/45), tested my blood for Typhoid and Dengue (negative thank goodness), and gave me IV fluids, IV antibiotics, and some new prescriptions. This was the lowest level of hospital care in Mexico, supposedly – a hospital designed for the people who cannot otherwise pay and who may never have had a job that qualified them for a higher level of care – yet the care and attention I received was superior.  At one point I think I had no less than 7 nurses, orderlies and doctors surrounding my hospital bed.  And they waived the fee!  Asking instead if I would just spread the word that Taxco is a good place to visit!  Done!  (Apparently, the location of Taxco in the crime-ridden state of Guerrero has deterred foreign tourists, even though tourists in Taxco itself have never had problems).
And while I was in the hospital for a high fever, Rick was suffering from days of diarrhea that did not seem to be affected by antibiotics either. But then on top of it, he got my cough and congestion and fever. So a week later, we were back in the hospital with Rick, who received similar treatment.  Now with only a few days to go before we leave Taxco, we are both finally starting to feel normal again, although Rick is still on his course of antibiotics.
I can't explain the heavy knockout by fever that we both acquired here. It is the rainy season and mosquitos are prevalent, but our illnesses didn't seem to be mosquito-born. Jules had a brief bout with what might have been Zika, and Nancy had some tummy problems, but Jeff didn't get anything.  We drank only purified water, of course, and disinfected all fruits and vegetables.  We used tap water for nothing except bathing and washing dishes.  And we all had been in Mexico on the coast for several months so it wasn't just the shock of Mexico foods.  I have to chock it up to just bad luck – I don't think there is anything inherent about Taxco that should make you sick, as long as you follow the precautions we followed.
Inspite of our workload and illnesses, we did manage to see a lot while here.  We walked the 25 minutes or so to and from school every day, and that gave us a nice sense of the day to day life and community of Taxco, between all of the dogs Rick fed along the way, to the tortilla makers up early churning out their product, the fruit vendor stocking his bins, the flower salesman carrying his bundles to market, the taxis and private cars squeezing by each other on the narrow roads, or the same workers walking to work every day that we passed by as we walked to school.
We also managed to make a trip to the nearby Grutas (caverns) de Cacahuamilpa, a 2 kilometer paved walkway through lighted caverns that put Carlsbad to shame.  There was a film festival followed by a guitar festival in town, so we managed to see a little of both.  And our school put on a Shakespeare-era Spanish comedy written by the namesake of Taxco de Alarcón, the full name of this city.  The performance was the debut and the theater was packed, even though native Spanish speakers had a hard time understanding the 4-century old language. Our school also put on a potluck of sorts, where all the students had to make some food to bring, and talk about how the food was made. And for fun, we had 3 hours of Latin dance classes each week, with an excellent teacher who taught us everything from Danzón to Tango.
We got to the local Mescaleria, enjoying flights of Mescal from several regions of Mexico, and ate at several fun restaurants including sushi (all the fish was cooked), Italian, pozolerias, and of course, Mexican, some with wonderful views above the hills.  We so enjoyed the zocalo (town square) every time we made the 10-minute or so walk straight downhill to get there – it always seemed to be hopping with food and artisan venders, families with little children, jugglers, dancers, musicians, young couples sitting on park benches, all day and well into the evening.  It is hard to imagine how there could be any crime at all in a city where families can take their children late into the night in a public park and eat ice cream or street food.  We certainly felt safe as could be.
This being the rainy season, we grew to expect a late afternoon rain that sometimes continued through the night. What we never got used to were some of the most dramatic thunder and lightening storms any of us had ever witnessed.  There was no counting seconds between thunder and lightening – they all seemed to happen at once. We were sure we would be hit at any second.  If it weren't so darn scary, it would have been really romantic!
We had decided early on that we would each cook one meal a week so that we didn't spend all our money eating out, so we stocked our kitchen with spices and staples and got to know the local indigenous markets as well as the two large grocery stores quite well. We had some awesome meals at home, each showing off their specialties.
All in all, inspite of the setbacks, it was an intense and fun filled 7 weeks of new discoveries and lots of learning. Everyone except me, perhaps, advanced in their Spanish by leaps and bounds.  In spite of having studied for three years using Rosetta Stone and Duo Lingo, with the benefit of learning lots of vocabulary, Rick just refused to  let any of my grammar lessons sink in until he took this class. Now his eyes are opened wider than I could have ever imagined, to the actual structure of the Spanish language. He is well on his way to being fluent. Meanwhile, I was reminded of the finer points of grammar (what do you use the antepostpreterito verb tense for, again?) and writing Spanish after not having opened a book in Spanish in 30 years; if anything it might have made me a little less fluent because I am more conscious now of my mistakes instead of just having incessant conversations in Spanish with no analysis whatsoever from the right side of my brain.  But no matter, I haven't lost my fluency and I feel I am more informed and educated than before I went to class.  My next challenge is, in the next seven months before we arrive in French Polynesia, to remind myself of how to speak French!)
Here are a few of the pictures to complete the image of Taxco: