Notes from Cindy:
I love sailing. As we sit in Cool Change in our slip in the marina waiting for a good weather window to head out, I can't wait. My body aches for the undeveloped, expansive peace of the sea and remote islands. I am addicted. We sail at five knots of speed in ten knots of wind with the sun and wind off our port, slightly off course to our destination to take advantage of the direction of the wind to avoid motoring so we can enjoy the quiet rhythm of the sea. It makes me feel alive unlike anything I feel on land. The whole concept still amazes me – that a 15,000 pound boat can move along steadily through the ocean waters with us in it, with just an exhale from the lungs of Aeolus, while the sun warms us just enough to ease the chill of the gentle breeze. How can this all work so magically well?
And I love anchoring out. We find some beautiful, deserted anchorage in a cove surrounded by a pristine white beach, in this case, Bahia San Gabriel, with the second longest beach on the island of Isla Espiritu Santo just 20 miles outside of La Paz. I filet the 20 pound tuna Rick caught under sail while he pours me a margarita, and then we sit in the cockpit watching the sun sink closer to the horizon. We can listen to whatever music we want to complement the surroundings, from Jimmy Hendrix to Jack Johnson to salsa, or rock out to some memories of time gone by that make me dance with our compression post in undulating moves, which I secretly hope my husband is watching, but it feels good even if he isn't.

Gorgeous water, gorgeous beach
And then just as the sun sets, I hear the familiar sound of the fishing reel having its line stolen from it. A fish is on the hook. Our hearts leap with the sound. We spring into action. Rick mans the reel while I fetch whatever we need to haul him in – a spray bottle of alcohol to stun him so we can stick a skewer through his gills and hang him beside the boat to bleed out, my filet knife to cut the incisions for him to bleed, a large plastic bag so he can sit in the cockpit for moments without bleeding all over everything – whatever we need. Rick passes me the rod and reel while he prepares the gaff; we work as a team, my bringing the fish in just close enough for Rick to gaff him, but not out of the water, and then with one sure quick forceful movement, Rick penetrates the fish's body with the gaff and he is ours.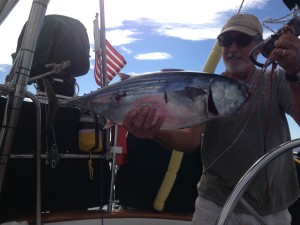 Yet another tuna
The next day, Rick makes me a freshly pressed cup of coffee while I freshen up and then put together a cold breakfast of yogurt, granola and fresh fruit, usually papaya or pineapple. We then load the outboard motor onto the dinghy and figure out how to mount our newly installed dinghy wheels and properly tether the removable cotter pins so we don't loose them. I hoist the motor up off its mount on the transom of Cool Change with a 3-to-1 block and tackle while Rick guides the motor down from the dinghy onto its transom and secures it. We bring along sun screen and lip balm, a portable radio, cameras, something to snack on, some water, beach shoes, and maybe a sarong or something else to sit on. And off we go to explore the bay's shoreline and beach.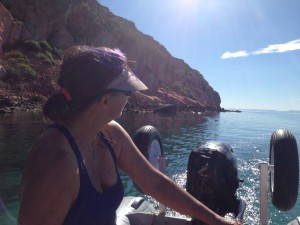 The dinghy with our new wheels mounted
Beaching the dinghy is made easier with our new dinghy wheels. The water near this particular beach is shallow for quite a ways out – maybe 200 yards or so – too shallow at low tide to even float the dinghy – no more than knee deep, often shallower. We wear our sandals to avoid stepping on manta rays, who often bury themselves in the sand under water, just below the surface, and offer a nasty sting to the unaware. We lower the dinghy wheels by rotating a cotter pin to the lower position, and pull the dinghy over the shallow water in to the shore.
The sand on the beach is warm and soft with very fine grains, but firm enough to walk on without sinking because of the extended shallows. It is low tide so there is nothing but unfettered sand to engulf your feet – no residue from high-tides past. Even though the water is generally colder at this time of year, the sun is still hot enough to warm the water in the shallows to bathtub temperature. Walking in the hard, wet sand at low tide is like an exfoliating foot massage. We walk the full length of the beach and back, ours being the only footprints on the entire shoreline. We find that the tide has dropped even lower. Time to wheel the dinghy out off the beach or we may be wheeling her half the way back to Cool Change!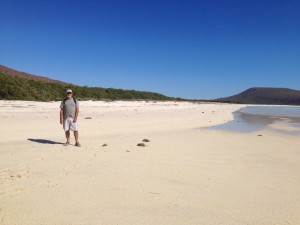 The only footprints on the entire beach are ours
The rocky base of the steep cliffs surrounding our anchorage beckons, so we motor the dinghy around the bay's circumference, staring down into such clear water that we can see the fish as though we were snorkeling. We see dark blue tropical reef fish with yellow stripes, we see manta rays jumping out of the water as they play with each other, we see dolphins doing the butterfly gracefully through the calm water (why isn't the butterfly stroke called the dolphin stroke? – the body movement looks so much the same), we see large schools of small fish skipping over the water surface in what appears to be a survival response to an unseen predator. Rick salivates at the fishing opportunities and I marvel at the the experience of being inside a National Geographic photograph.
We invite a couple from the other boat in the anchorage over for a sundowner, named Buck and Sally. While the guys take the dinghies out fishing, I entertain her on Cool Change. He has worked on the sea his entire career, most recently as the operator of a remotely controlled diving vessel, now retired; she, his wife of five years, is mostly along to support him in fulfilling his cruising dream but would rather be back home in Southern California on the dock with family and friends. But she is delightful and full of life, loves to stay active, is a prior travel agent, and loves exploration.
A side note here: It seems every day while adventuring, I learn something new. From meeting Buck and Sally, I learned from watching the two of them together that when the woman isn't as "into" cruising as he is, but he loves her and wants her to be with him, the best thing for him to do is to make her life as good as he possibly can. While she might not know the technical details about running the boat, she is a full participant and is acknowledged as such. Buck kept repeating that they are doing "whatever Sally wants to do." He is kind to her and tells her how much he appreciates everything she does on the boat, complimenting her at every opportunity. I know if I were going along for the ride to support Rick's dream, enduring the inconvenience without loving the experience as much as I do, that is what I would expect. (Of course that is not an issue for us since we equally love this life). But we have already met at least two cruising couples who split up because the skipper didn't understand this simple concept. So, skippers, if your partner is along for the ride and is doing this trip out of love for you to support your dream, not theirs, but lacks some technical cruising skill or another, then if you want them to stay, get over it! Treat them like royalty; be grateful, appreciative and complimentary about everything they do to help you with the journey; participate in whatever activities they choose that make their experience more complete, like dinner outs, fancy marina visits, or an occasional weekend off the boat; expect no more than they are willing to give, and you will be much more likely to finish your cruise in their company.
Anyway, Buck and Rick came back empty-handed from their dinghy fishing adventure but Buck helped us identify a fish that Rick had caught a bunch of, but had thrown them back because we didn't know what they were, whether the meat was any good, or how to cook them. They were called trigger fish. Fortunately, we caught another the next morning for breakfast.
After our visit with Buck and Sally, Rick grills up the freshly caught tuna while I make a cabbage salad and some sautéed veggies, and then we listen to a few chapters of the audiobook of Steinbeck's Log of the Sea of Cortez, before we cozy up in the v-berth together with the hatch open for fresh air, and fall off to sleep in the calm, glassy waters of the anchorage.
Wake up and repeat …
Rick's Version at Bahia San Gabriel:
After being stuck in the marina for over a week waiting for a Norther to pass, we finally had the right weather to head back out to Isla Espiritu Santo. Though we had wanted to venture further north this time to explore Isla San Francisco, we do not have enough time on this trip due to a commitment we have on Saturday: a seminar on best places and logistics for leaving the boat in a safe place during hurricane season. We have been anchored in Bahia San Gabriel since Wednesday and today, on Friday we will be heading back in. On the way out here I trolled a line and shortly before our arrival we landed a 20 pound tuna. The
dorado have moved on with the cooling waters. We have been honing our skills at landing big fish underway and this one went very smoothly. Cindy headed up enough into the wind to slow us down to about 2 knots and set the autopilot. Then she pulled the dinghy we were towing along side so it would not interfere with the catch. Cindy tried her hand at making ceviche, which turned out great and we shared with Buck and Sally on Sea-Esta, a motor vessel from Southern California currently about to cross the sea on their way to Mazatlan.
The first night at anchor was completely still. I woke up a couple of times thinking we were at the dock only it was much darker and quieter. Last night it was a bit rolly after midnight but the motion was on the bow so not uncomfortable. We were able to connect to the Sonrisa net on SSB radio to get weather so we had a clear picture of what to expect during our stay.
Yesterday morning, we took the dinghy to the beach and walked to the NW end. When we got back to the dinghy, the tide had gone out quicker than we expected leaving us way high and dry on the beach! Fortunately, when we were stuck in the marina last week, we finished a project to put wheels on the dinghy to make it easy to pull up the beach on landings. Now we used the wheels to get to the water that had receded a couple hundred yards. Once we were floating again, we explored the tide pools along the edge of the rocky perimeter of the bay. We looked at the ruins of the old Pearl industry that existed here before a disease wiped out all the oysters. From the looks of the stone foundations that remain, it must have been a flourishing business.
Though the water is too cold for comfortable snorkeling now, it is so clear that we were able to see the marine life clearly in 10 to 20 feet of water. The first night here right at dusk I cast out a spoon lure for a while and in 20 minutes or so caught 6 trigger fish. We let them all go because we already have plenty of fish on board for this trip, but it was fun playing them and releasing.
Then this morning I was fooling around and managed to catch another triggerfish. This one was the largest so far at about 2 pounds. We decided to eat this one with our breakfast and it was delicious! They are too bony to make a good filet but on advice from Buck we just gutted him and threw him on the grill until the tough skin separated from the meat. The meat had the consistency and mild taste similar to lobster.
The wind came up pretty brisk this morning from the west, which we are not protected from in this anchorage. Cool Change is riding it well on her anchor while we have some morning coffee and contemplate some chores we will need to do to get underway.
Rick's Version at Coleta Lobos
I think it is Sunday. One day is like another and schedules fit any day so it can be hard to tell. I prefer it this way! After pushing to get back to La Paz for what we considered an important seminar on boat storage during the hurricane season, we decided to turn around and head back out once the seminar was finished. There was no wind in the forecast so we decided to just head to one of the closer anchorages on the La Paz peninsula for the night and decide on where to go from there in the morning. I was curious about Caleta Lobos, which is a neat little anchorage with room for about 10 boats scattered throughout. At the entrance there is a small islet and there are two small coves in which to anchor. Though our guide book claimed it offered good north wind protection, we disagree because there is an aroyo cut that the north wind zips through. Better than no protection though. We were the last ones in so did not have many options to choose from so we ended up anchoring about 300ft off of the north wall expecting the evening winds to be light and from the north. Of course we should have expected South winds which is what we got through the night. The wind was just strong enough to remind us that we had a lee shore so I did not get much sleep. Cindy slept like a baby, probably partly because in her subconscious she knows I will be awake and checking our position throughout the night.
The wind subsided by about 0200 and the anchorage was very still. Though there was light from a waning moon, the sky was alive with stars, since light pollution from La Paz in this location is minimal. Earlier in the evening I was hearing lots of fish activity outside so every once in a while I would cast out a spoon with a red helper hook attached but I could not interest anything in striking.
In the morning we were able to listen to the Sonrisa net on the SSB to get a weather report. Not much had changed on the report though we are finding that winds and sea state can be very unpredictable in the Sea of Cortez, more so than any place we have been. We decided to stay another night so we got a better position anticipating the south winds we will likely get later tonight.