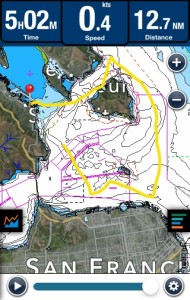 Track with the Conrad's
A long awaited visit from Cindy's sister Bonnie, her husband Ron, and daughter Laurie culminated in a day sail on San Francisco Bay.  It was another one of those gorgeous days on the Bay, where hardly a jacket was needed.  They seemed to have a wonderful time, and so did we.
We picked up a mooring in Ayala Cove for lunch.  It seemed reasonable to just pick up one mooring ball because it was midweek, we were only going to be there for a few hours, and there was hardly anyone in the cove, but the ranger came by and asked us to attach both bow and stern to mooring balls.  That meant starting over, but it was actually fairly painless.  Some nice folks from a neighboring boat came by in their dinghy and took some pictures of Cool Change for us.
Rarely do Rick and I get a chance to have a picture of both of us at the helm, so we took advantage of our passengers to catch a little snapshot.